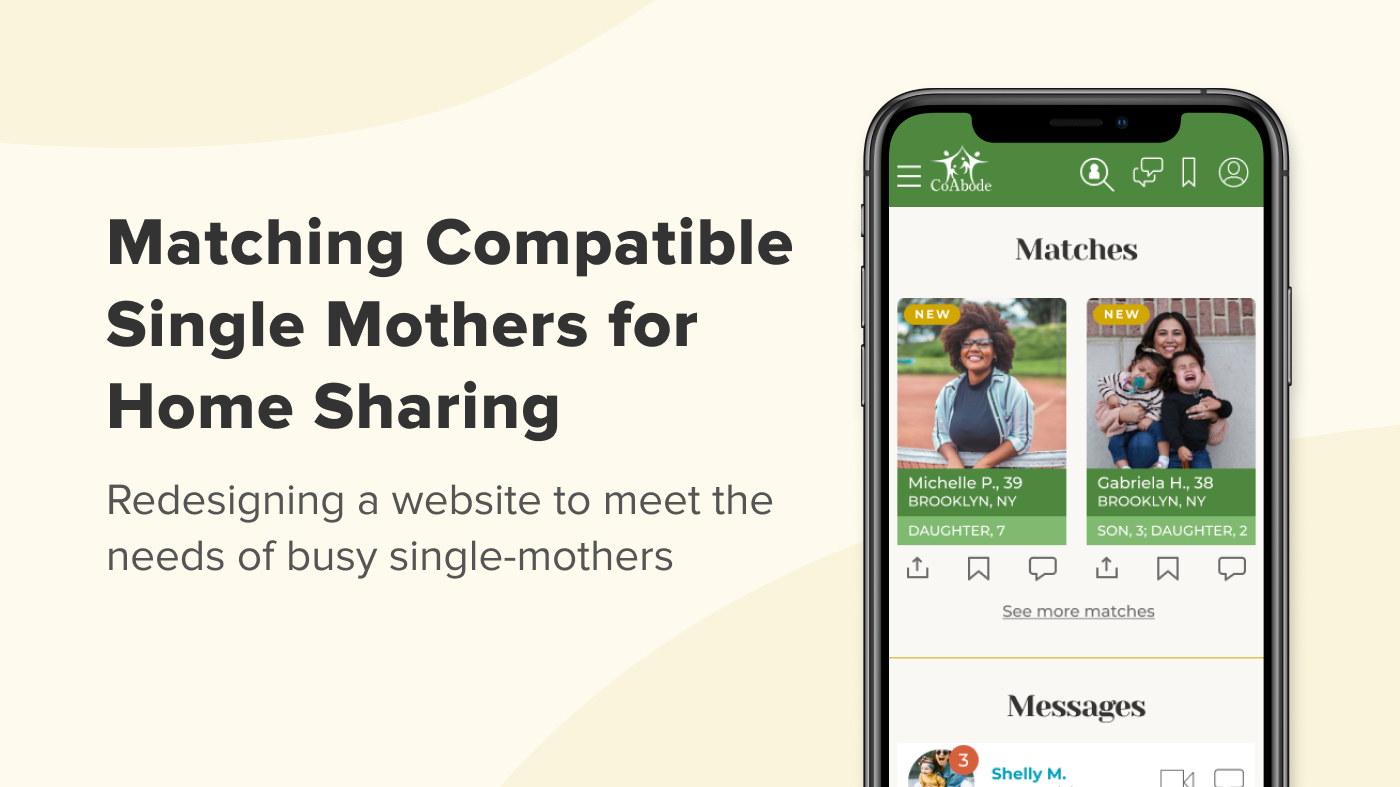 CoAbode: Responsive Web Design for Connecting Single Mothers
CoAbode is a community of single mothers supporting each other founded by artist and single mom, Carmel Boss. The core feature of CoAbode is the ability to match single mothers with other like-minded single mothers so that they might create a household together. Two single mothers raising their children together are stronger, more resilient, and can achieve more.
The Challenge
CoAdobe's current website is outdated and is not optimized for the mobile experience despite that 79% of its members access the site on a mobile device.
We need to create a warm and welcoming website that can be easily and quickly be accessed on mobile devices by busy single moms so they can feel confident they will find a co-living match.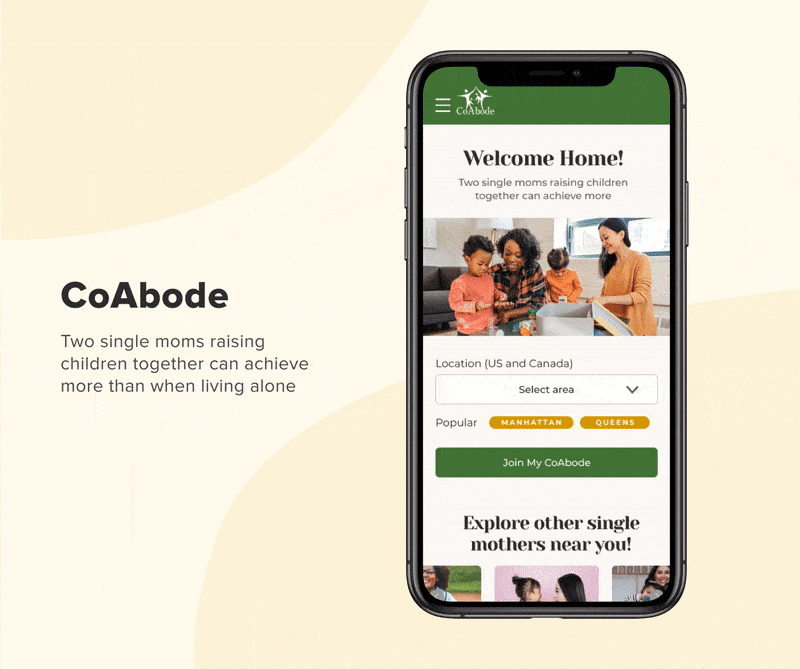 Goal:

Create a responsive website for single moms to sign up as a member and find other mothers to connect with for potential home sharing
Student project
 through General Assembly with a team of 3 UX Designers
My Role: 
Design Lead. I lead the visual design, UI, and prototyping portions of the project and also conducted user interviews, affinity mapping, user flows, site mapping, and competitive & comparative analysis.
Tools: 

Figma, Miro, Zoom, Slack, Google Docs, and Trello
Location:

Fully remote and in three times zones
Scope and constraints
The client, CoAbode, came to General Assembly and our design team with no budget,
a 3-week time frame, and big dreams to gain more funding to fully realize a highly functional CoAbode mobile site
to support more single mothers. CoAbode wanted a prototype they could show to potential investors to create the excitement of the future possibilities and demonstrate the potential of the modernized website. We also needed to work under the assumption that engineering a robust matching algorithm would be possible. Without the technology to match profiles appropriately, our designs would not be able to fully support single mothers looking for another single mother to live with.
Solution Overview
Through the 3-week sprint, we were able to redesign CoAbode.com to highlight the feeling of safety and create a warmer environment for the community while also streamlining the onboarding and profile viewing process to respect the time constraints of single mothers. Currently, users took 10+ minutes to create a profile. With the new design, users could create a profile, review their matches' profiles, and start conversations in the same amount of time. We balanced the need to sign up and scan profiles quickly but also have enough information so that single mothers could learn as much or as little about other community members as time allowed.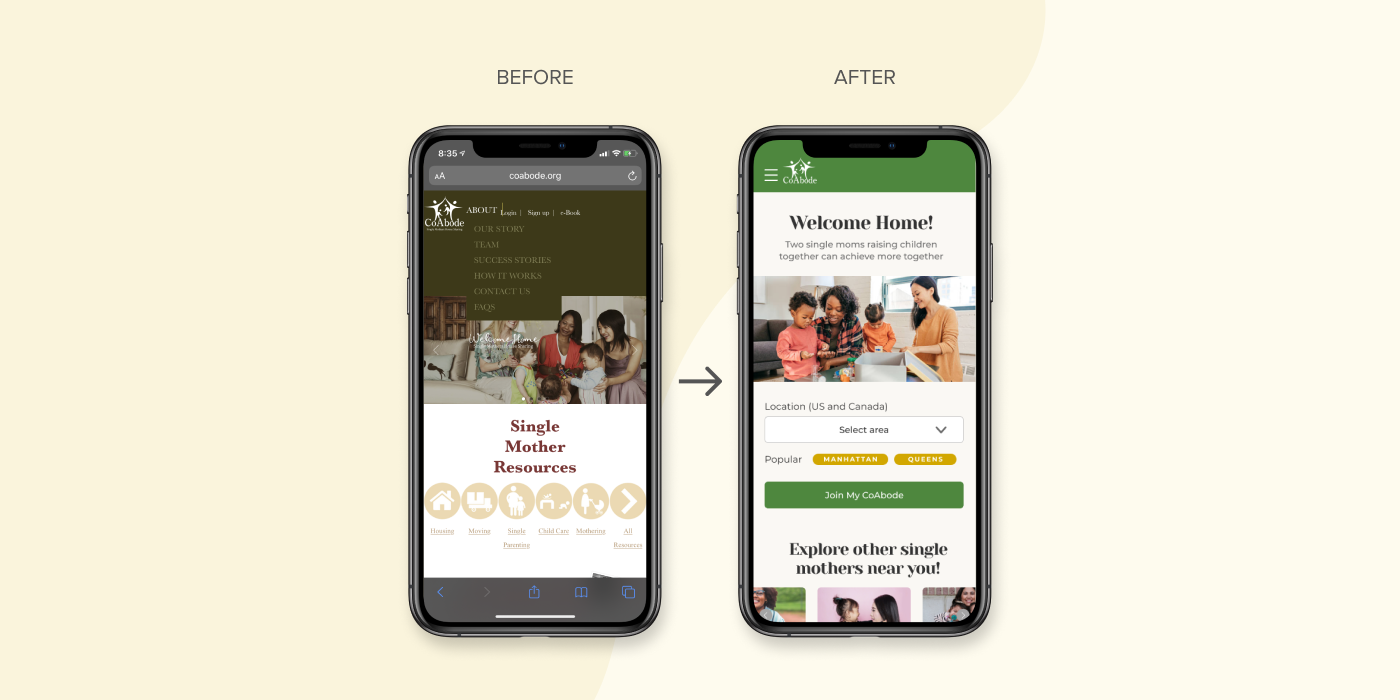 Research
Comparative analysis of dating sites and online mom communities
We looked into 11 dating, community, and roommate matching sites to see what was out there. We researched the features, user flows, and visuals of each of these sites and found these key areas where we ultimately drew inspiration: 
       · 
 10 out of 11 sites have quicker account creation with cross-platform login (with Facebook, Google, or Apple IDs)
       · 
8 out of 11 sites ask new users to answer multiple-choice questions instead of essay questions for faster account creations
       · 
Dating sites we studied use texting-style chat dialogues, not emails when sending messages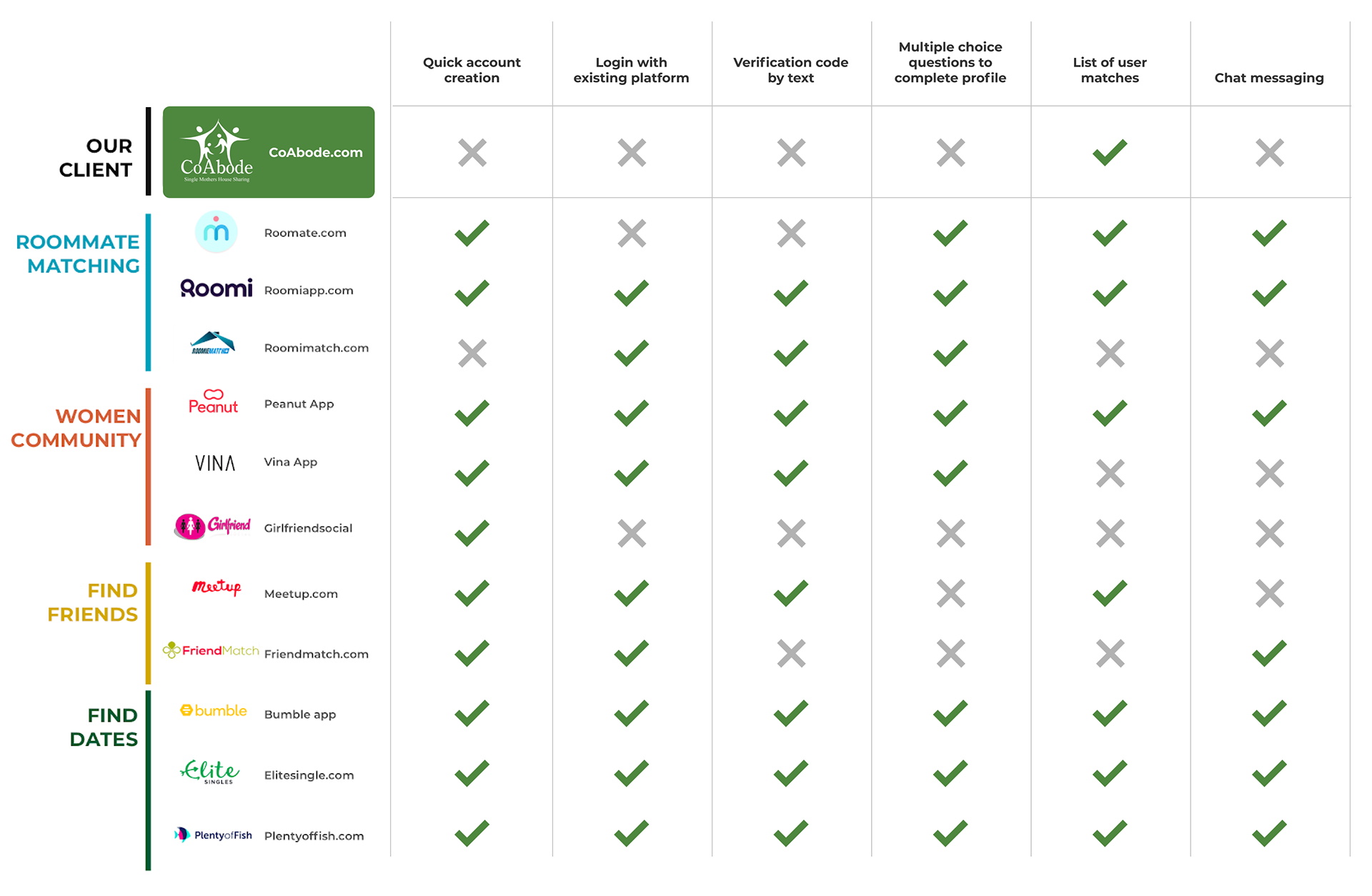 Evaluation of the current CoAbode site
Homepage
       · 
 Text over images difficult to read
       · 
 No mention of housing matching
       · 
 No call to action
Sign up
       · 
 Button size is not mobile-friendly; too small
       · 
 A lot of text to read
       · 
 If you make an error, the form resets and the information is deleted
Profile page 
       · 
 Only one photo allowed
       · 
 Images are too small and proportions are skewed
       · 
 Chunks of descriptions are not scannable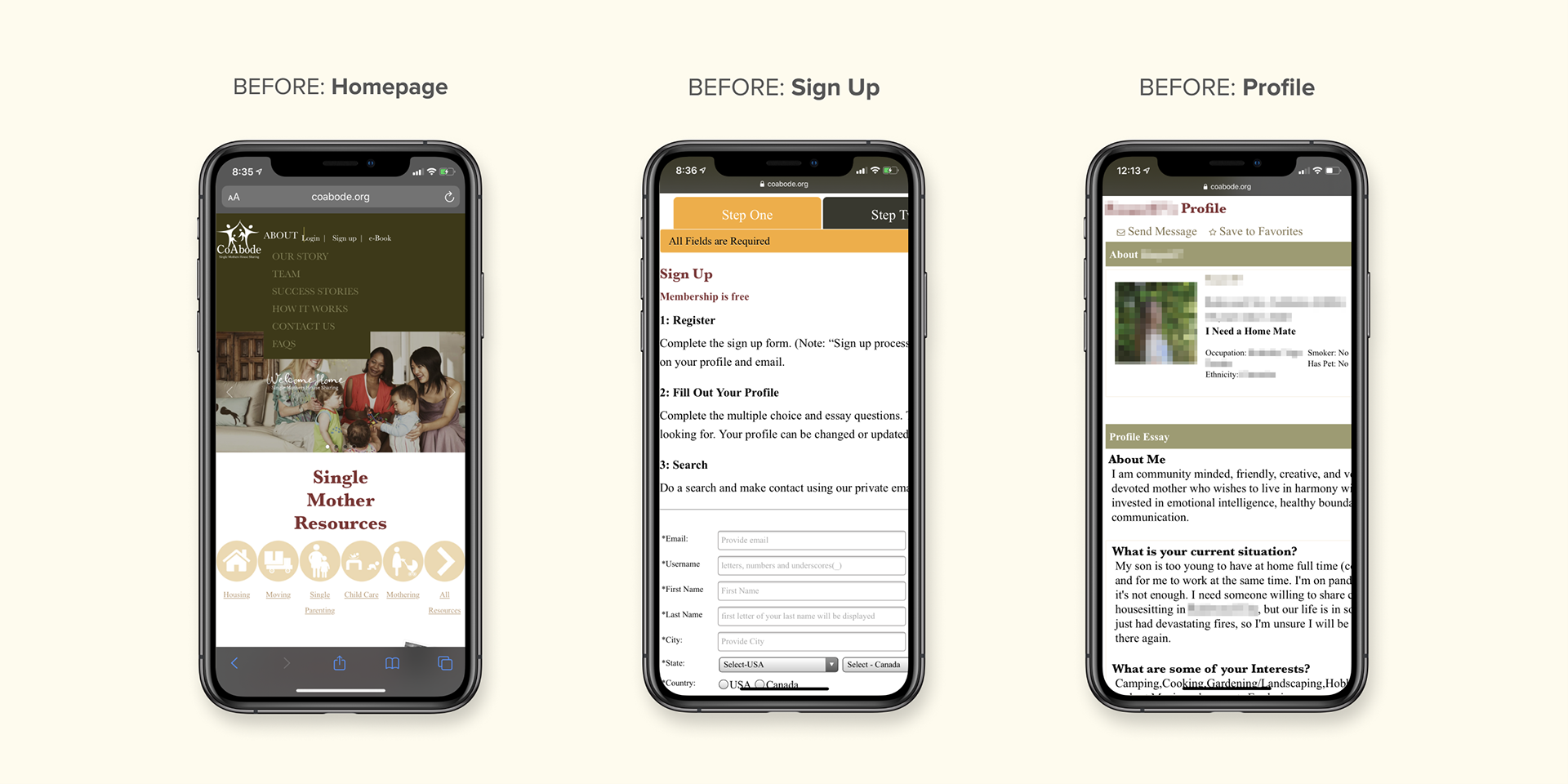 Interviews with single moms
We interviewed single mothers all over the country and were able to discuss their experiences, challenges, support systems, and constraints as a single mother to determine how we can best enhance CoAbode's site to meet their needs.  
These single mothers taught us some really valuable lessons.
       · 
 Single mothers tend to rely on their community/friends more often than they do on family/partners
       · 
 Many single mothers have been impacted by lay-offs and are in between jobs
       · 
 The main hesitation against shared living for single mothers is concern over common parenting styles and priorities 
       · 
 Single mothers who have used dating apps, appreciate the efficiency of the dating apps to fit into their demanding schedules/lifestyles 
       · 
 Single mothers who had experience with CoAbode found the site to be purposeful but slightly limited with options

Key research takeaways
Balancing speed and efficacy with depth and detail
Through interviews, we learned that mothers are constantly pressed for time but they want to be extremely thorough when it comes to screening people who will have close contact with their children. We had to go back and ask, "how do we make this process faster while having an option to allow users to dig deeper they wanted to?" How do we speed up creating a profile for new users while still getting all the information that a single mom looking at the profile would want to get to make an informed decision about contacting or meeting a user?
The CoAbode user: Olivia 
Our surveys, interviews, and analysis of the information we collected about users led to our persona: Olivia, a 34-year-old single mother to a 6-year-old daughter. After her recent divorce, her partner moved out and she's paying for the loft on her own. She was let go from her job as an executive assistant because of the decline in the economy. Now she's trying to make ends meet by being a waitress; it's a struggle. Olivia is looking for a more affordable situation that is kid-friendly which in NYC is quite a challenge. 
"I'm always on. There's no time off for single moms."
Olivia's challenge 
Olivia finds it difficult to keep her head above water as a single mother.
Olivia needs confidence in a resource that will match her with compatible single mothers who are interested in shared living, so she can raise her daughter in a multi-parent home to lighten the emotional and financial load of being a single mother.
What Olivia's experience looked like before
When Olivia visits CoAbode for the first time on her phone, she was a little bit confused: is this where I can meet other single moms I can maybe live with? She spends a lot of time answering questions in the form of paragraphs but she feels unsure about her answers who she might match with. We think we can explore some design opportunities by rearranging information on the homepage and allowing new users to quickly register with more multiple-choice questions. We think that we can borrow from dating apps by using larger profile photos because images can convey information very quickly.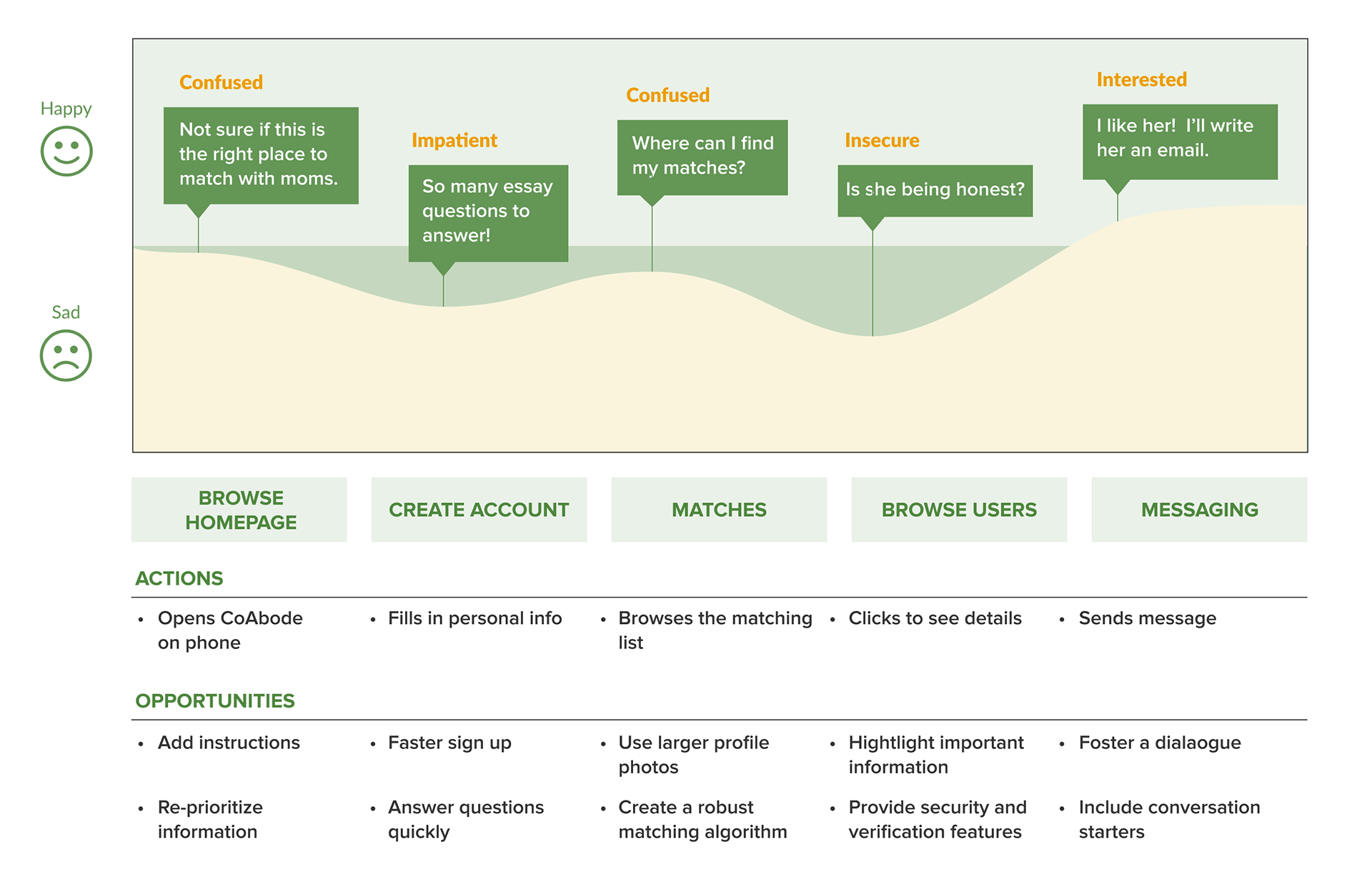 Always remember: Single mothers are busy
We must balance speed & efficiency with having plenty of information so Olivia can show others who she is but learn about others quickly. Information needed to be scannable for a faster experience if Olivia is in a hurry but there's more information available for when she wants to learn more. She can easily find out if another mom is a good potential match.
After analyzing our research we decided to focus on these areas:
       · 
 Quicker up the profile fill out process with much less text to read and fewer typed in answers required
       · 
 Introduced quicker login with connected Facebook, Google, and Apple account
       · 
 We changed email-style messaging into chats, just as dating apps have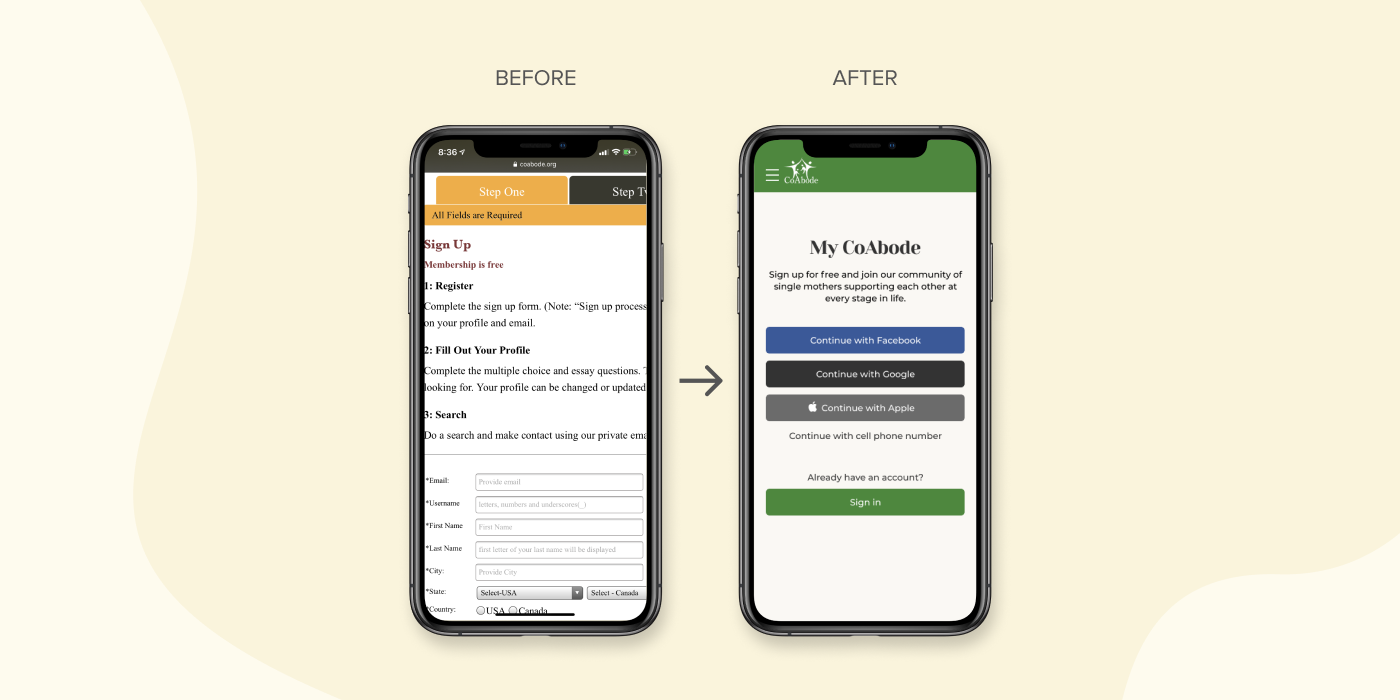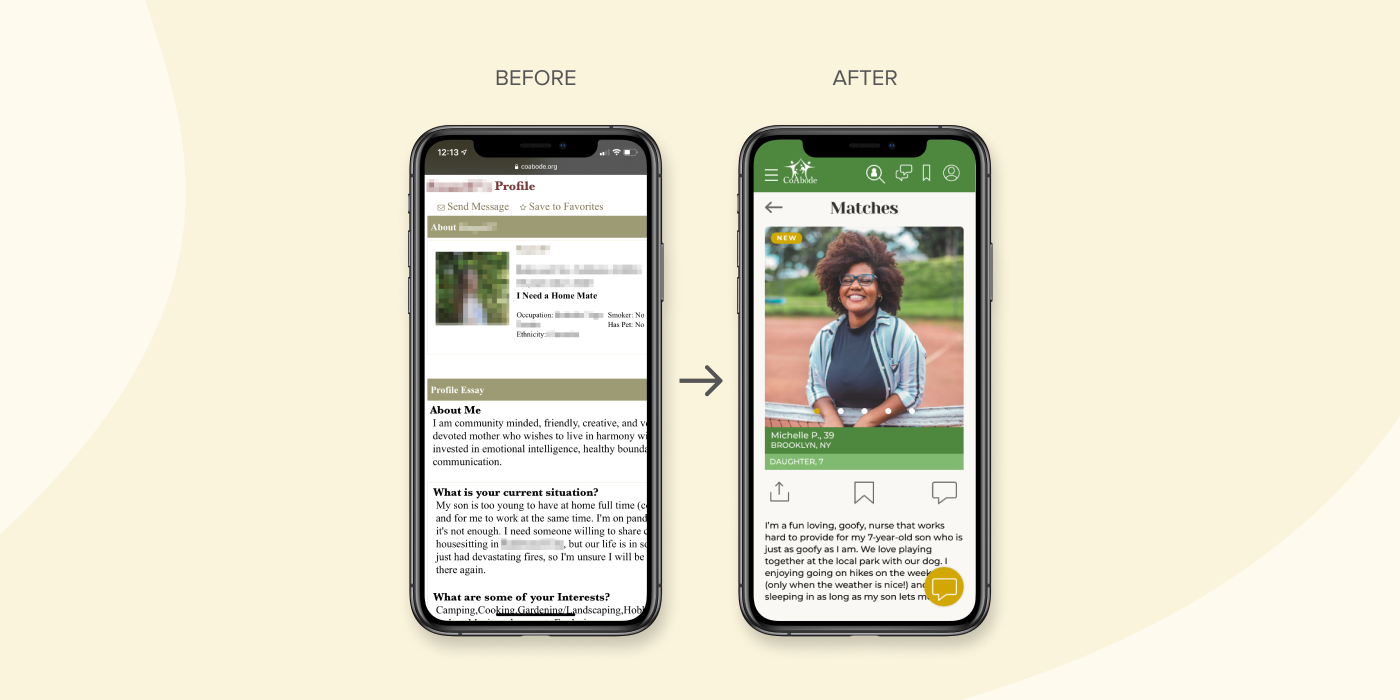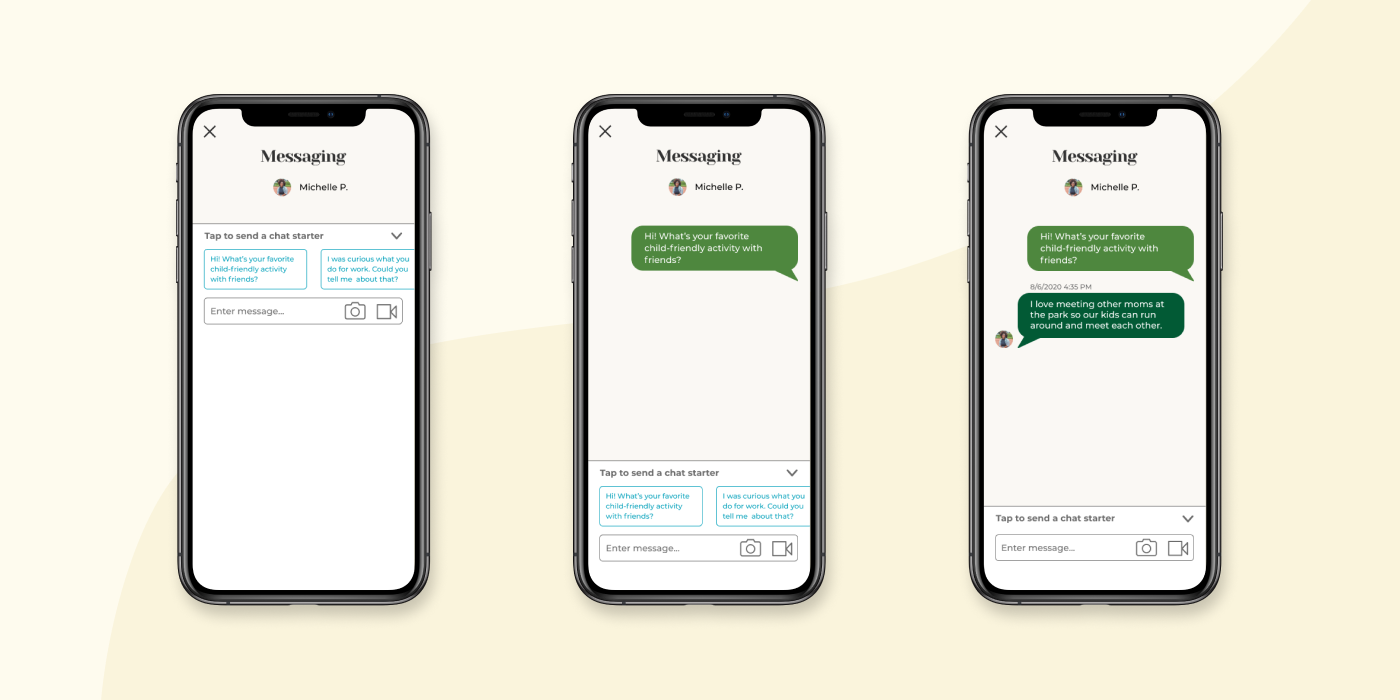 Fast vs In-depth profile creation
Account creation is faster and more interactive. Users have the option to go through a fast vs thorough profile fill out process and complete the profile at a later time while still providing others with the basic information.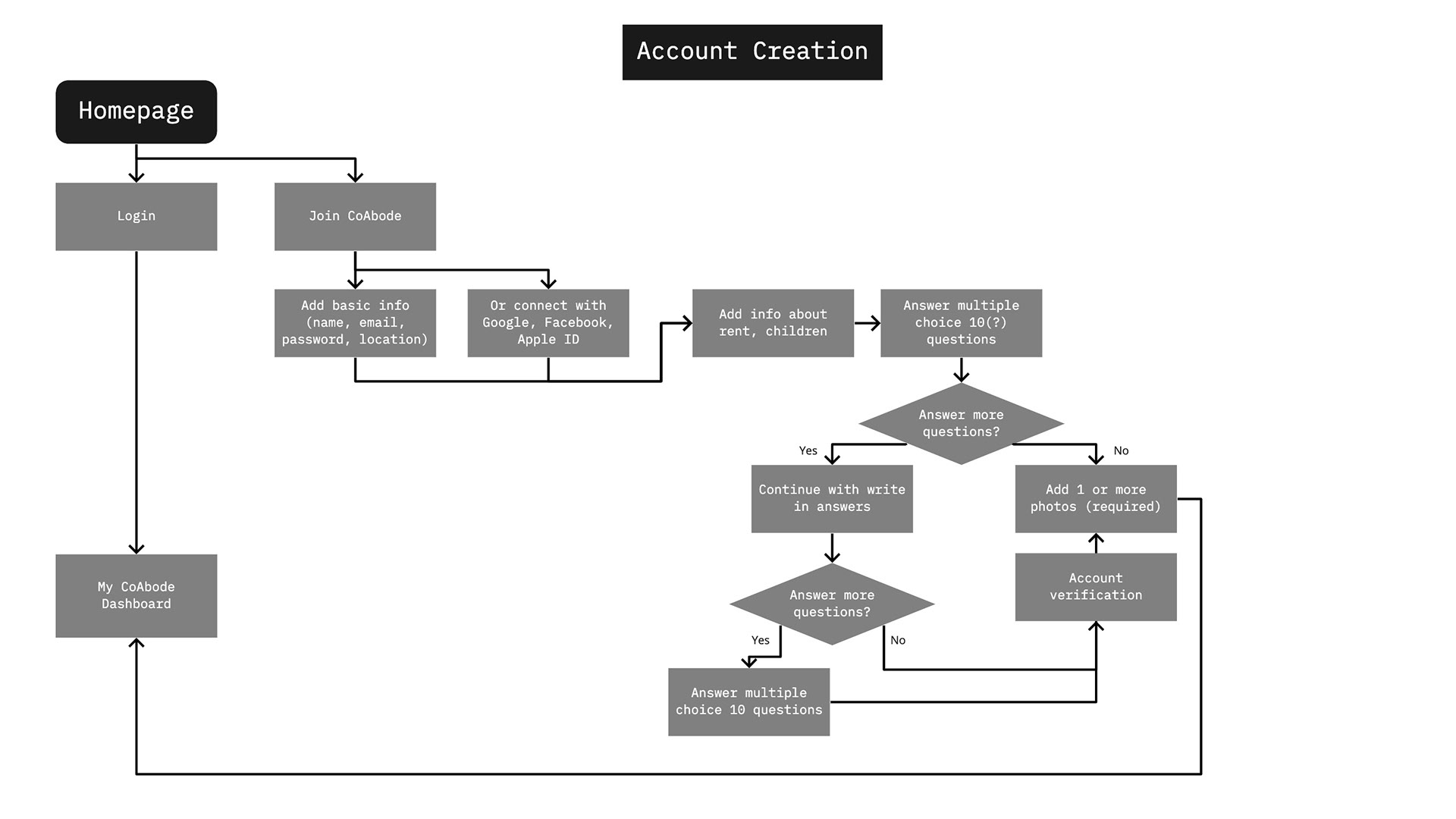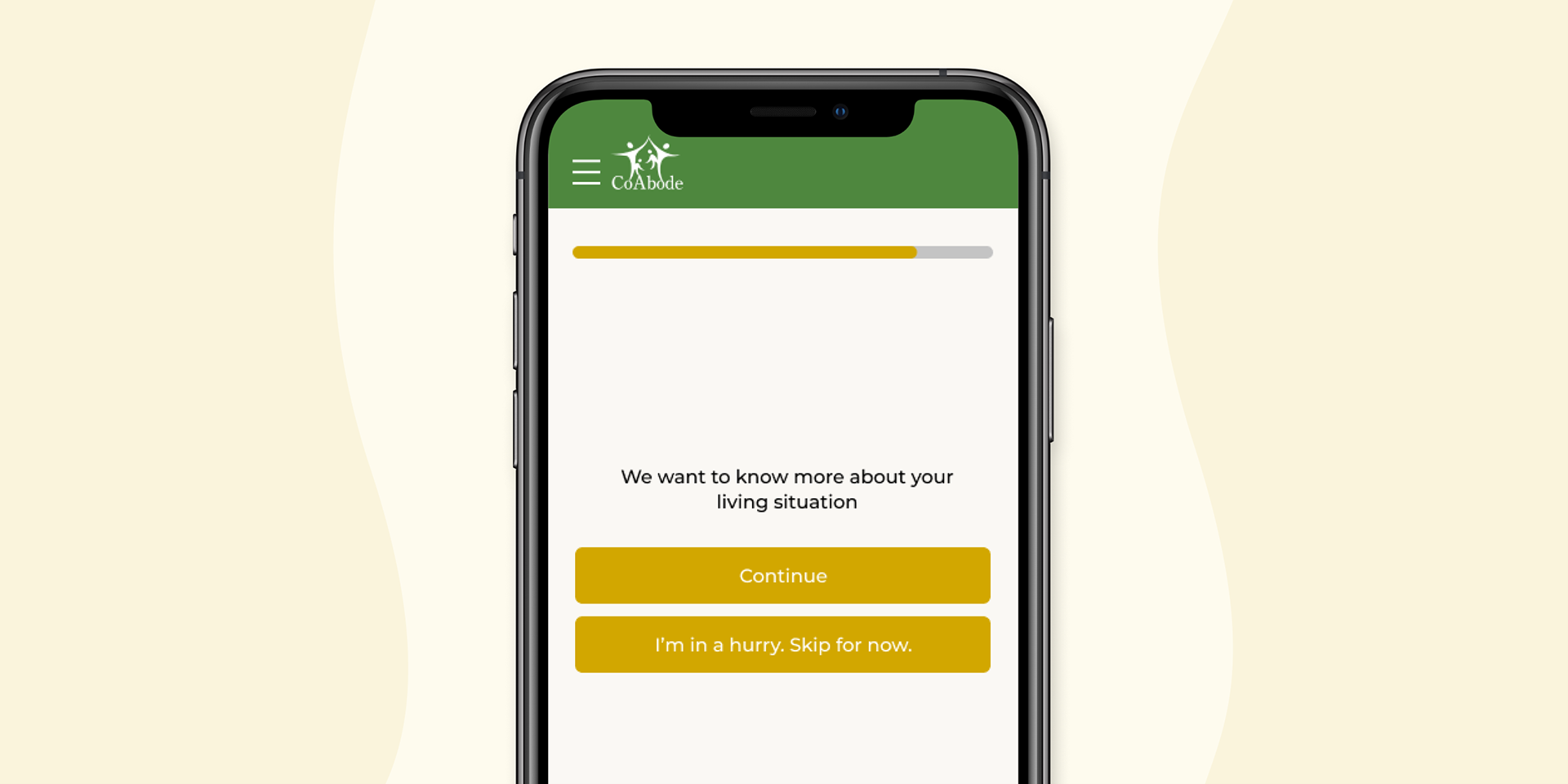 Is this easy and quick for Olivia to use?
Here are a few concerns we observed through testing: 
       · 
 Average rate who successfully completed the test is 99.8%, within 8 min and 34 seconds
       · 
 Users found that scrolling through questions was tedious 
       · 
 Users still found the profile section to be long and dense with content
       · 
 Users expected the completion of a question to jump you to the next page/question
Some changes we made based on our testing
That feedback was very valuable to us for helping single moms like Olivia when viewing the CoAbode website, especially on the phone. 
       · 
 Upon submitting an answer during profile creation, the site now will jump to the next question
       · 
 We added a collapsible feature to profile sections so Olivia can read only what is important to her or what she has time for
       · 
 We adjusted some copy to reflect positive and warm feelings. We created a sense of safety by requiring users to agree to a set of community guidelines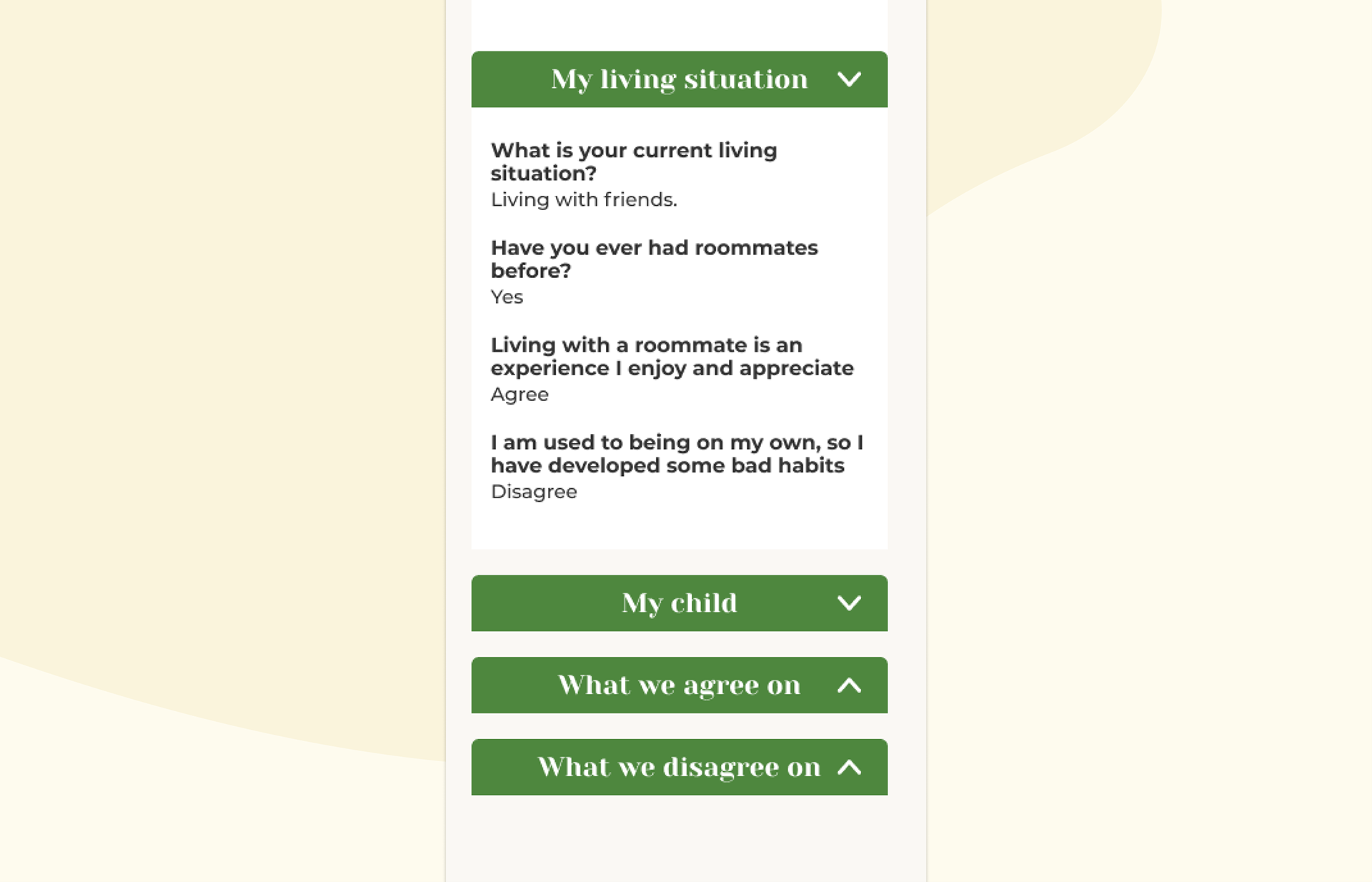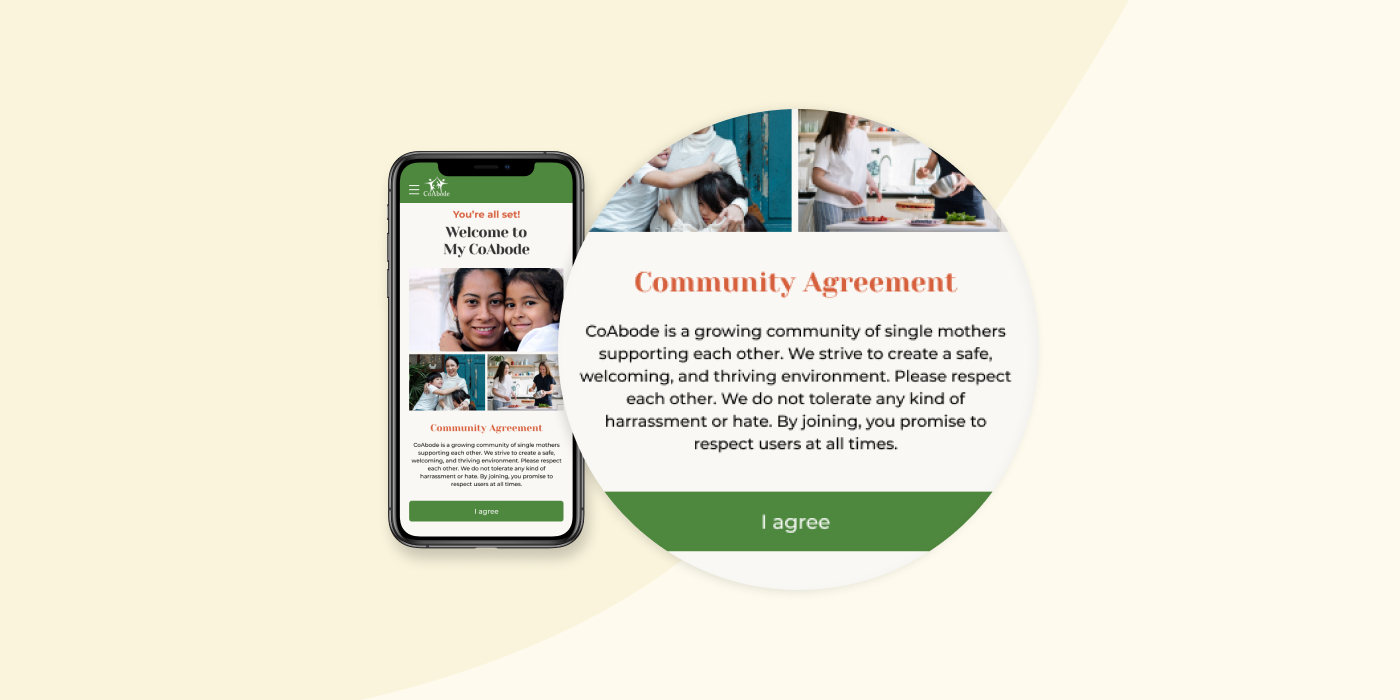 Client feedback
Our client was overjoyed when we delivered the prototype. She was now well-prepared to meet potential investors and demo our prototype to illustrate what could lie ahead for CoAbode and the single mother community. 
What I learned
Emotional sensitivity during interviews
Once we sent our survey out to gather some basic information about single mothers we quickly learned that project would require nuanced emotional sensitivity on the topics of motherhood, childrearing, and housing. Mothers were not afraid to ask questions about protecting their privacy so we were sure to anonymize names, and any other identifying data we had collected, and delete video recordings at their request.
Flexibility with interview schedules
For interviews, we also learned that we would need to be flexible and have plenty of backup interviews lined up. We need to go with the flow when mothers needed to reschedule at the last minute, cancel the interview entirely, or when interviews took much longer to conduct because their children needed their attention.