CUESA
'
s food waste reduction initiative 
CUESA (Center for Urban Education and Sustainable Agriculture) is dedicated to growing thriving communities through the power and joy of local food. One critical part of cultivating a healthy food system involves the reduction of food waste. The USDA estimates that 133 billion pounds of food are thrown away each year. The CUESA website has a small section dedicated to tips and resources on reducing food waste but it's not engaging nor motivating. 
We need a way for food shoppers and home cooks to learn about food waste reduction in a quick and fun way so even the busiest people can feel good about doing more for the environment.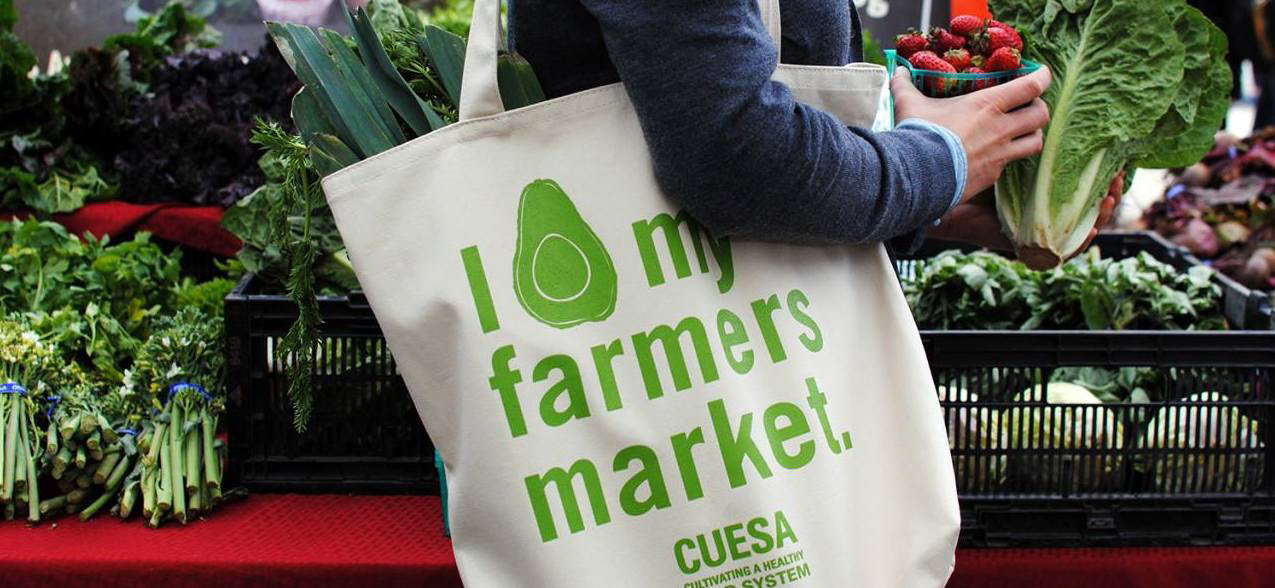 Goal:

By providing home cooks and grocery buyers with an interactive way to educate themselves on food storage, meal planning, and recipes, we will help them become more engaged in helping the environment.
Student Project 
Team: 
Monica Lee (Design Lead), Victoria Rangel (Synthesis Lead),
Colleen McHale
, (Research Lead).
My Role: 
Research, interviews, synthesis, iteration, sketching, UX writing, illustration, UI design
Tools: 

Figma, Adobe Illustrator, and Miro for design. Zoom, Slack, and Trello for collaboration.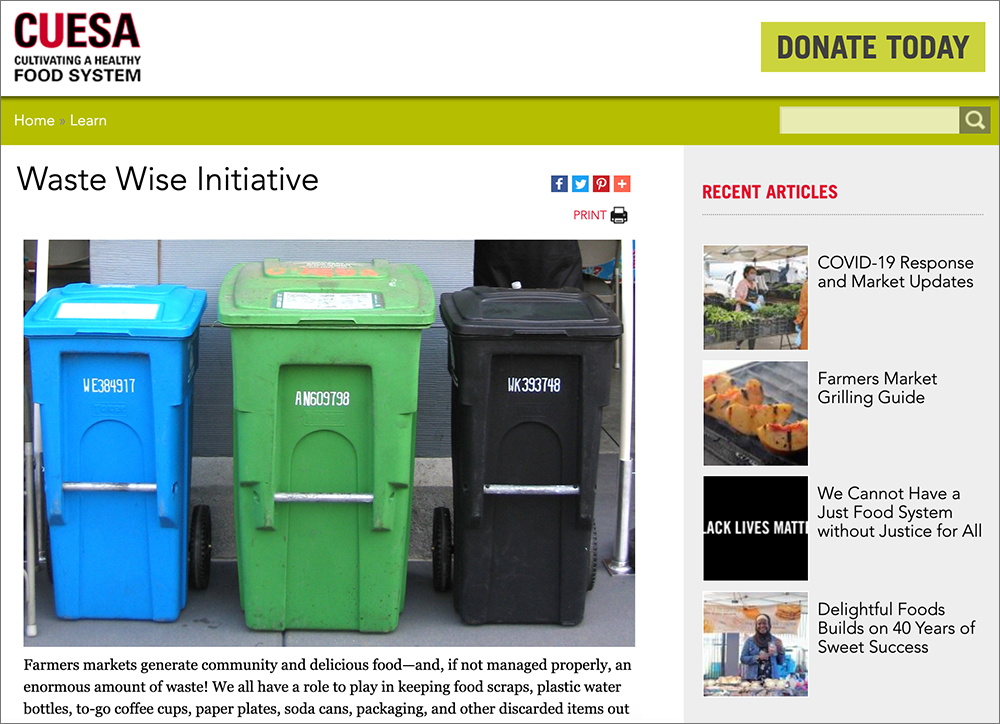 One person's trash is another's compost 
When our team first approached the problem of food waste, we read all the sustainability materials available on CUESA's website. It mostly focused on things like using reusable water bottles and shopping bags or how to properly sort your trash. After we sent out a survey on on sustainable behaviors we saw that most people didn't compost. We decided that
making composting easier for people
could help people better deal with their food waste.
Trash talking
Researching food waste resources and educational tools
We analyzed the digital products that other environmental organizations have created to motivate and educate the public on food waste reduction. We looked at sites that teach people about reducing food waste — NRDC, Save The Food, and Food Ways — to examine their strategies. We also studied Duolingo to learn how they teach people languages in easily digestible bites.
We asked people about their food storage and waste
We interviewed people who 1. practice sustainability every day like using reusable shopping bags & recycling, 2. people who shop for food 3. people that cook at home regularly. We conducted interviews with 11 people. These are some of the questions we asked:
       · 
Can you tell me about how you keep food fresh?
       · 
Can you tell me about how you deal with your kitchen waste?
       · 
What is your process for sorting your trash?
       · 
What do you feel would make reducing food waste easier for you?
Through affinity mapping to analyze the data gained from the 11 interviews, we landed with two types of people: One was an early 30's city dweller who said they felt they rarely wasted food and thought that the government should do more to regulate the food waste from businesses. The other was
a mother in her late 30's who loves the outdoors and wants to do what she can to protect the environment but finds it difficult to find the time to learn how to do that.
After thoroughly discussing these two types of people, we decided to focus on the mom who is struggling with sustainability because our efforts would have the most impact there. She says:
"We'll buy food and then not use it. We don't know what's in the fridge. It's not organized, so we forget about it. You know, vegetables only can last so long."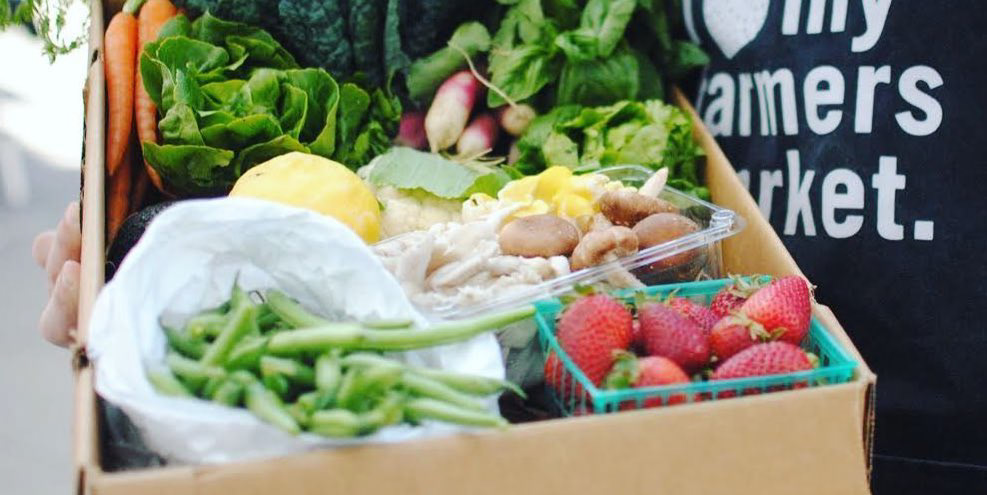 Back up and look at the big picture
Once we found our primary user we stepped back to review our interviews to ensure that our solution addressed the true problem. We realized that the problem wasn't that those people needed to find ways to compost more easily.
What they really needed was the knowledge to cut down dramatically on the food they bought but ended up throwing away.
We knew now that we needed to find a way to quickly educate busy people like our primary user, Bella.
Our user: Bella 
Bella is a mom and a teacher. She loves the outdoors, yoga, and also playing games on her phone. She's on a budget and wants to help the environment by not throwing away so much food, but she doesn't have a ton of time to devote to being an eco-friendly champion. She needs an easy and convenient way to learn about: food waste reduction, so she can save some money too. What Bella does have, is a few minutes at a time during recess, or while waiting for the pasta water to boil, to play a quick game on her phone.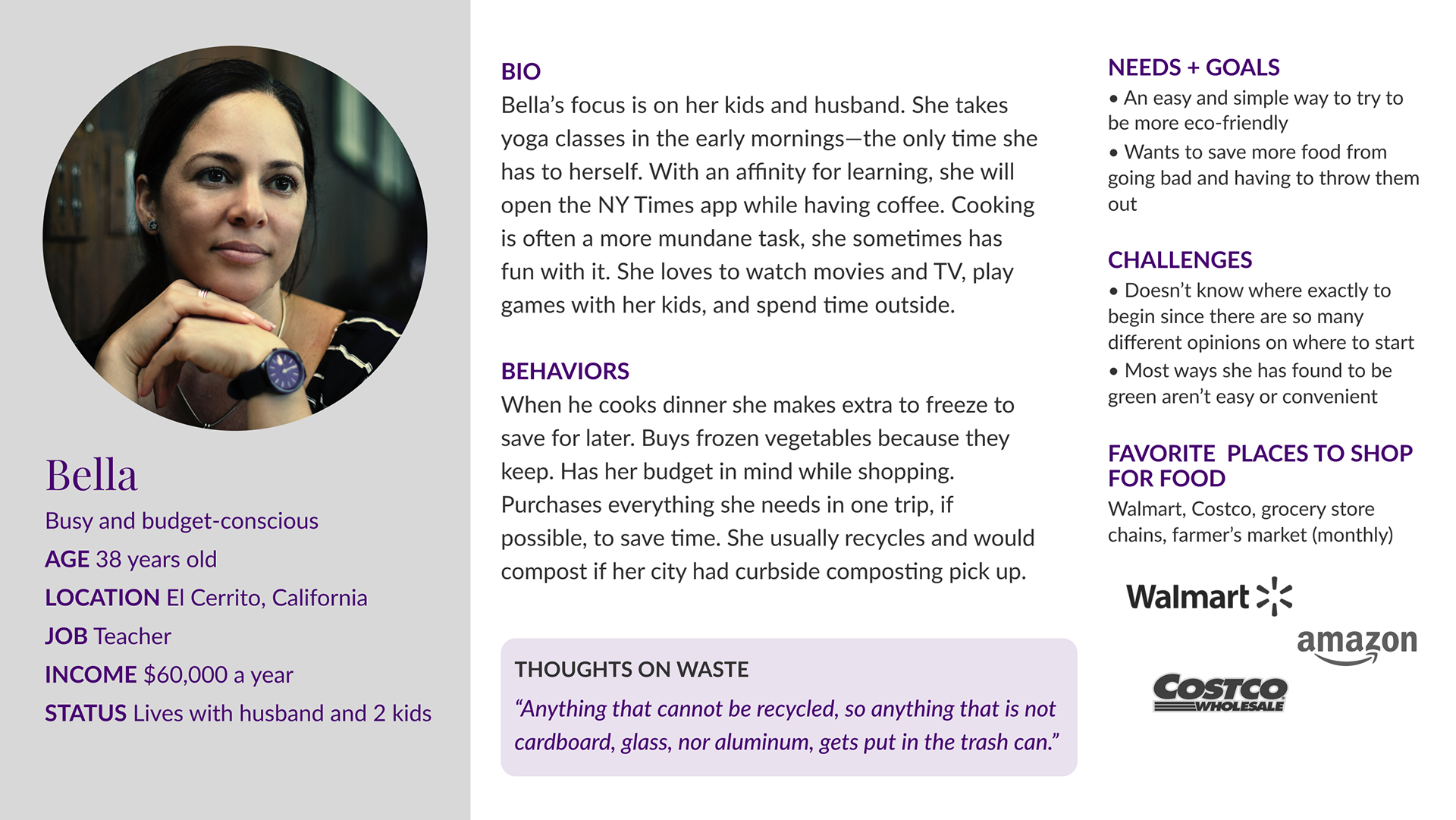 "I have a few minutes to spend on my phone."
Don't waste those 8-minute breaks
Our team brainstormed ideas and we decided that we should utilize the few minutes of time that Bella has during the day waiting to pick up her kids or waiting for dinner to finish roasting in the oven. Normally, she would pick up her phone to read the NY Times or watch something on YouTube but she could also spend that time learning about food waste. 
We landed on the idea of creating a game-like learning app to educate her on forming new food waste reduction habits.
Working out the steps in learning
As a team, we sketched and iterated on how Bella could approach the app for the first time.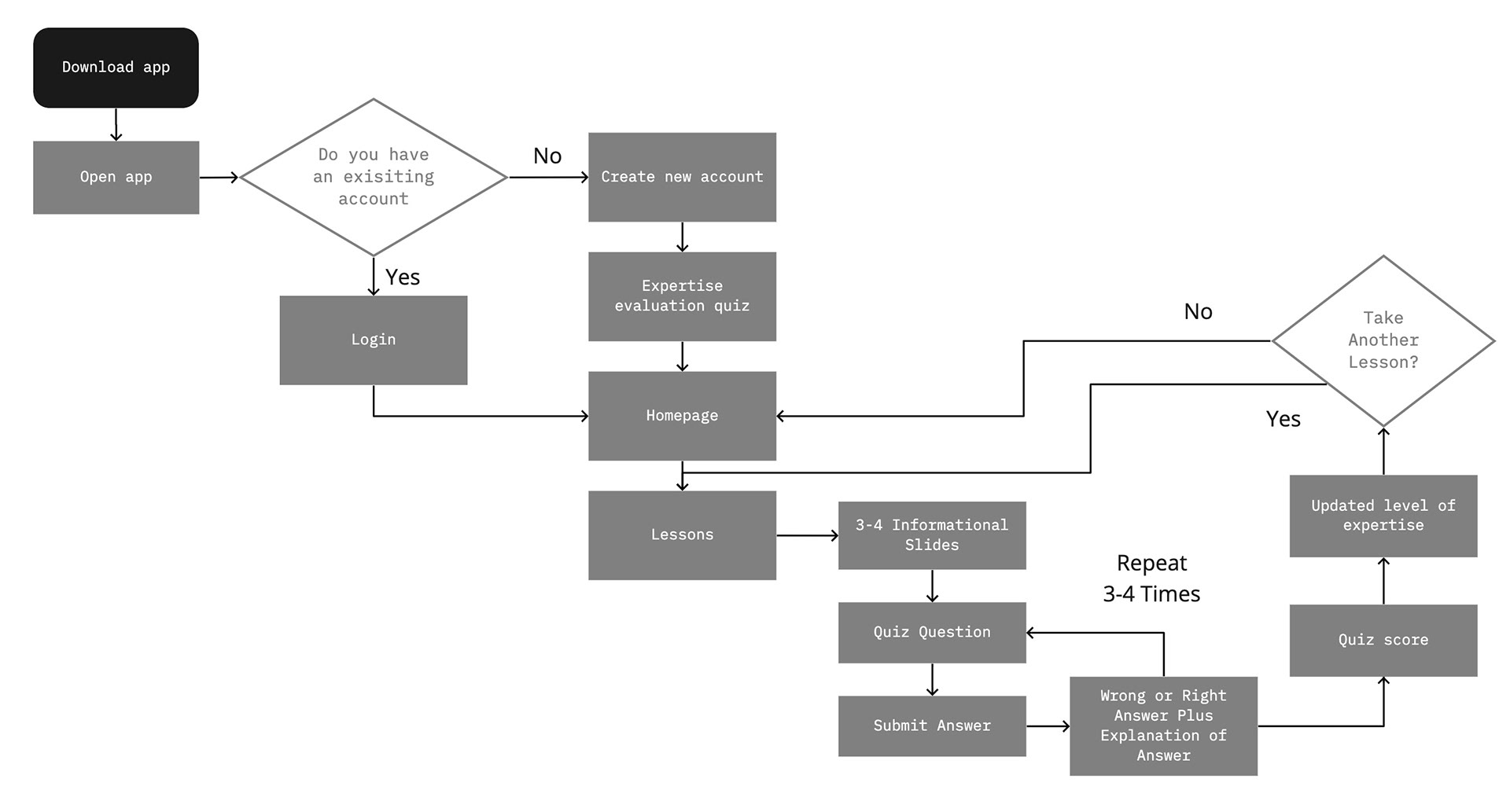 Bella's experience map
Because we were creating an entirely new app, we thought about the experiences Bella would have while using it. She creates an account and moves immediately into a food sustainability quiz. She's excited by the quiz that feels like a game. At the end of the game, she's interested to learn more and goes into a lesson. After the lesson, there are a few questions waiting for her to recap what she has learned and review the important points. After taking a lesson she can head to the homepage where she can learn about meal planning to reduce food waste, how to store food, and finds a forum where she learns from other users.
Design
Sketching out the app
With the steps mapped out, we collaborated as a group to sketch out some hand-drawn screens before moving on to more detailed screens to illustrate the app.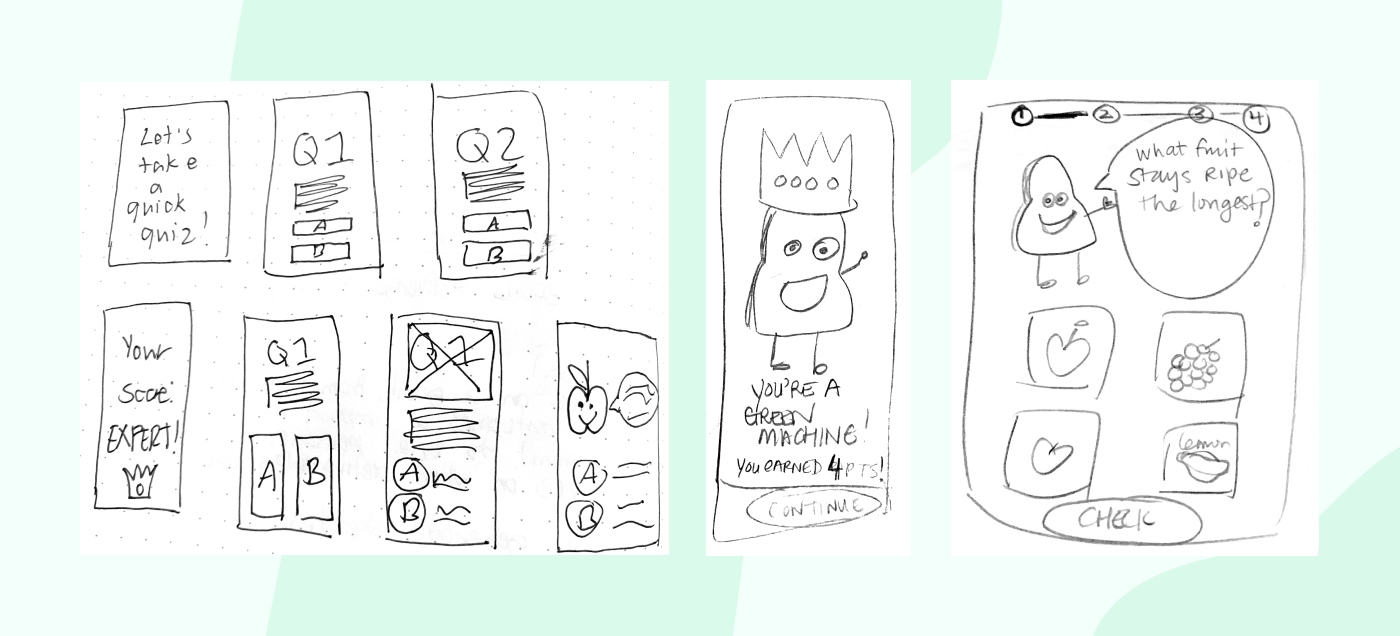 Is this easy and quick for Bella to use?
Armed with our prototype, we tested the usability and learnability with 4 participants. Testing showed that users thought the app easy to use. They were pleasantly surprised that the app began with a quiz to test their knowledge. They were animated when they got the correct answer and wanted to keep going.
Testers seemed to want more clarity about correct or incorrect answers.
To address this, we made it very clear in our next iteration by adding more fun responses and a green box to indicate correct answers.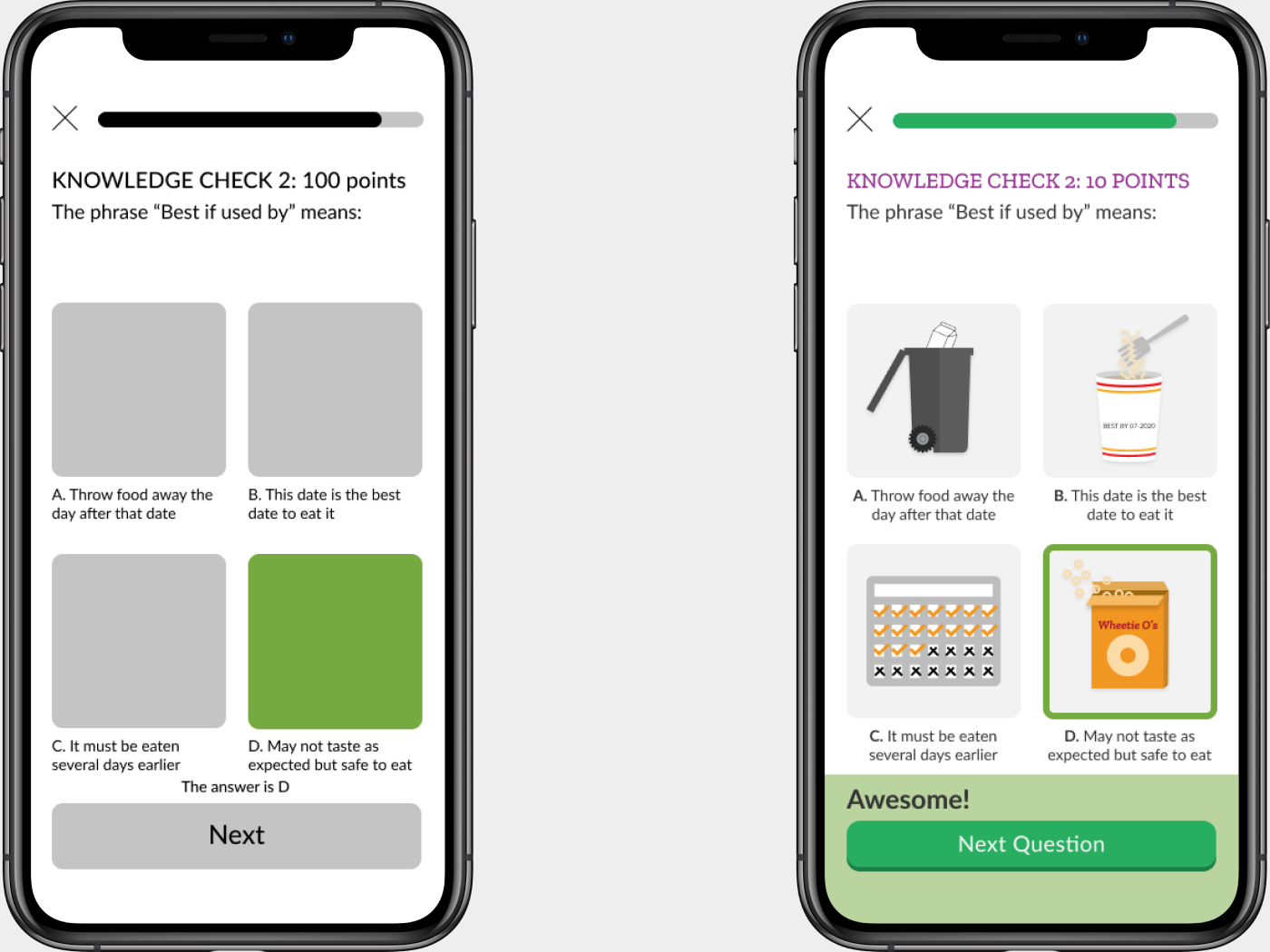 There seemed to be initial confusion about the global navigation being at the bottom of the app, but once they found it for the first time, they had no problems. The search was located in the bottom center; this gave it prominence and users wanted to use this feature. Since we put it there to make searches for specific article topics or previously viewed recipes—
the search icon didn't need to be so front and center so we decided to move it to the left corner instead.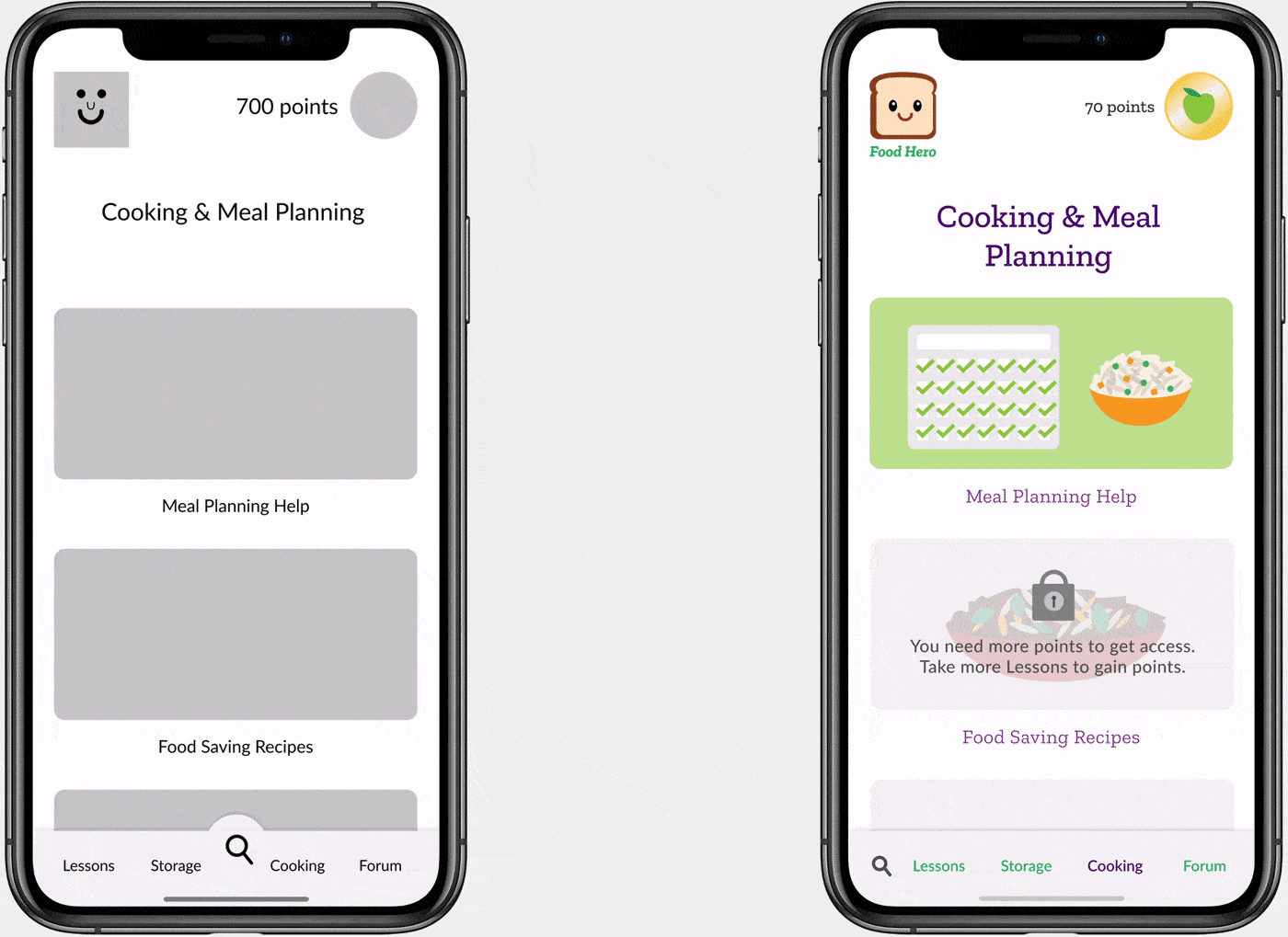 Look and feel
Our colors represent all of the vibrant colors you'd find at a farmer's market and reflect our brand personality which is optimistic, authentic, welcoming, and down to earth. The typefaces are chosen for their legibility and to enhance a sense of practicality while still being fun. There's a slight nod to a school textbook aesthetic as well.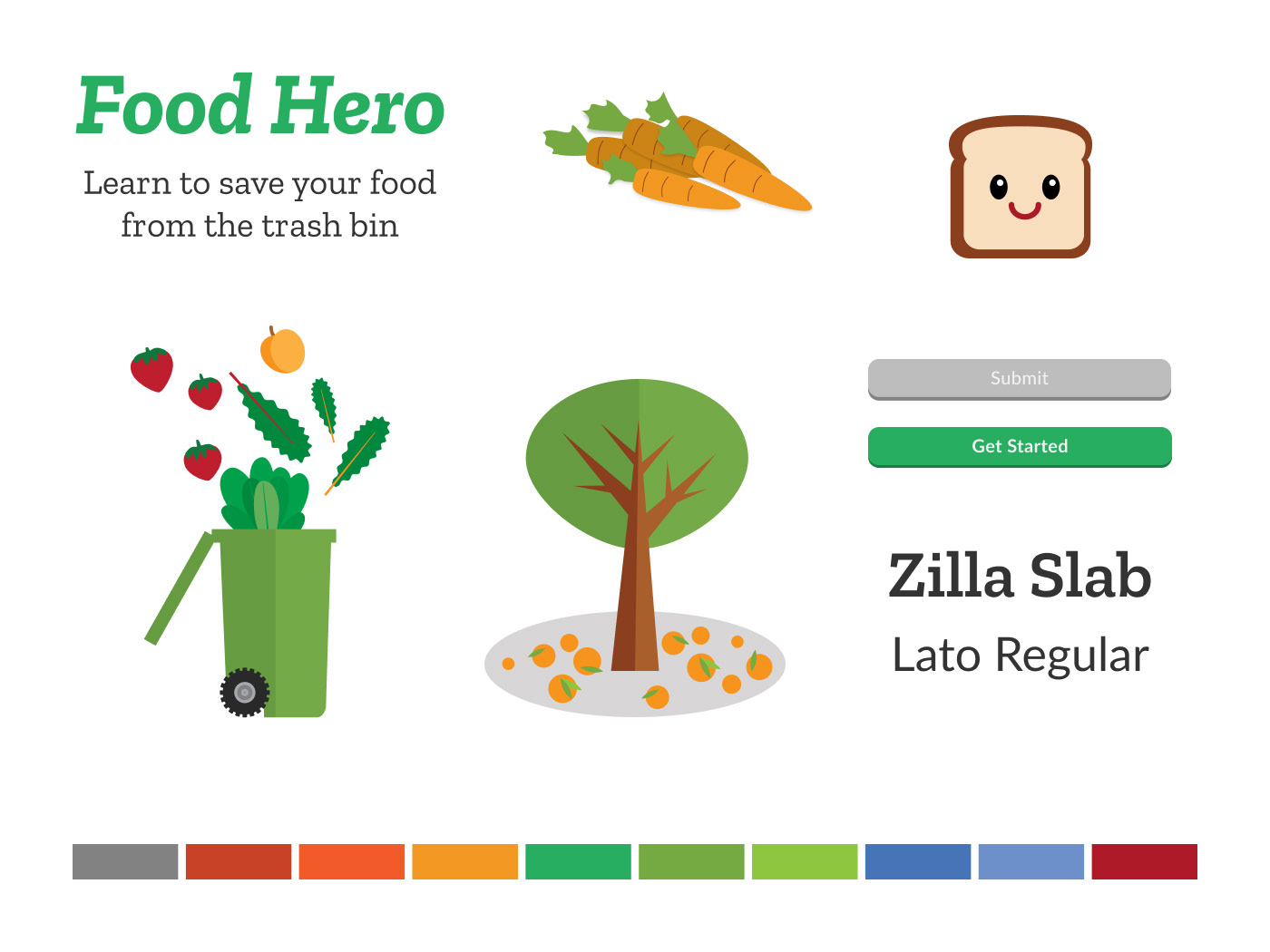 Food Hero: Learn to keep your food out of the trash bin
We iterated on our previous design and created a colorful and polished mobile experience called Food Hero. We turned those screens into a
prototype you can try yourself
.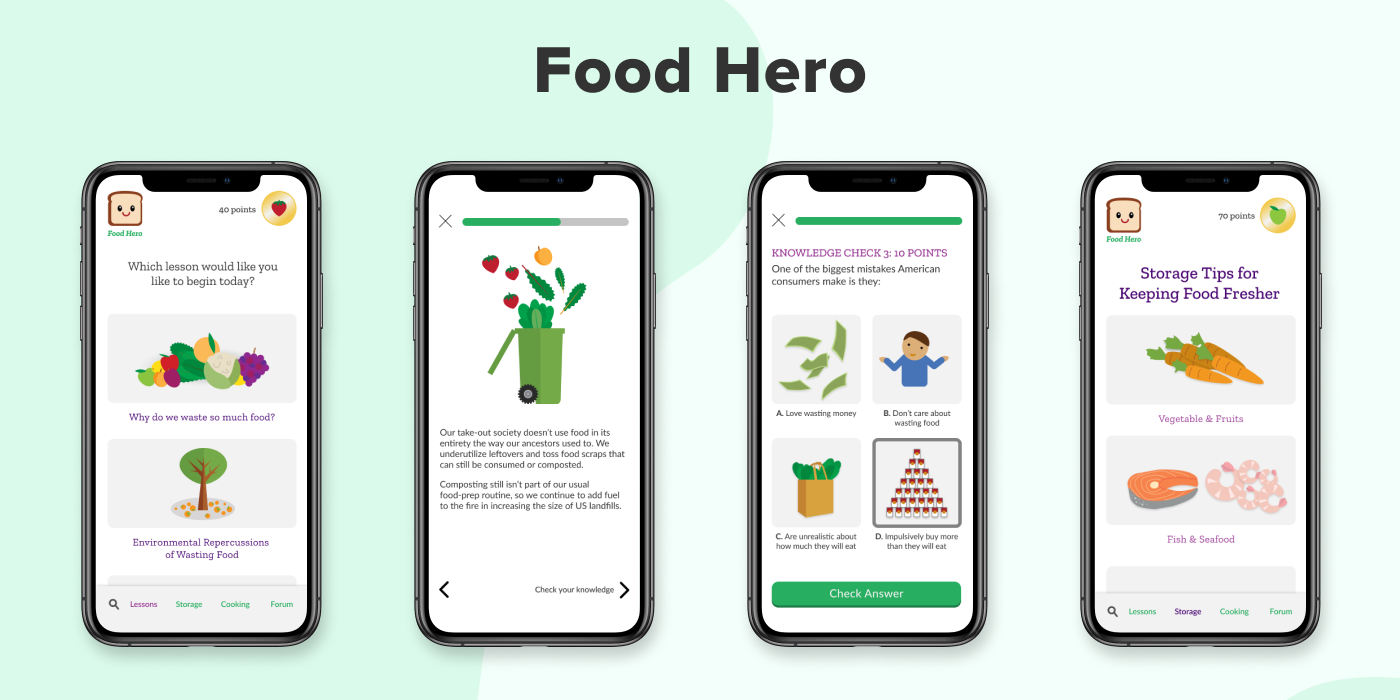 Next Steps
       · 
Add
push notifications
to her phone so she's reminded to learn regularly
       · 
Replace the bottom bar navigation text with
icons
, add a "Home" icon so it feels more familiar to users
       · 
Add a
favorites
option so she can save articles she found helpful
       · 
Add
quiz results to Bella's account profile
so she can review questions she's been asked before
       · 
Add
photos
to articles to help explain concepts
       · 
​​​​​​​Add the ability to
share articles
to social media account and to friends

What I learned
Validate your assumptions. We assumed that people who would consider themselves eco-friendly would make up part of our users. However, in order to focus on the core product and to solve CUESA's challenge we set aside users who were already well-informed aside for now.
Always go back to the problem and check to make sure it solves that problem and not a related problem. When looking at food waste we thought about giving solutions to people on how to deal with the waste they have when in fact we needed to get to the root of the problem by educating people on how food waste is a huge problem and how to store their food and prepare meals in a way that minimizes waste.
Working with a remote team required an extra level of communication. We made sure to check in multiple times a day on Zoom video calls and messages in Slack. Our team was really able to thrive because we had both scheduled and ad hoc meetings to keep the momentum of continuously producing and iterating together.